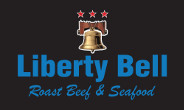 Liberty Bell Gift Cards
Available for purchase at the restaurant, Gift Cards are the perfect gift for any occasion. Stop by the restaurant and get yours today!
Your friends and loved ones will be able to enjoy our delicious food whether they purchase at the restaurant, over the phone, or through our website. Gift Cards can also be re-loaded, letting you give the gift that keeps on giving!
Purchase an E-Gift
Reload your Gift Card
Check Your Balance
---
The 12 digit gift card number and the 4 digit pin will be found on the back of the card.